Carbonless Forms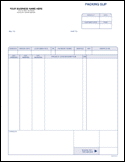 We are offering a special on carbonless forms!
You can deduct $20 off your first order of $100 or more.
This is a limited time offer and applies to any carbonless forms with multiple parts in color or black and white for first time visitors to the Scripps Ranch Minuteman Press.
Just go to our customer service area to download your file on our website or make a request to have us do the work.